Resource Library
Mobile Resource Library Tabs
Resources
Ejaz, F., Rose, M., & Reynolds, C. (2020, August). Research to Practice (R2P) Series Brief: A Novel Intervention to Identify and Report Suspected Abuse in Older, Primary Care Patients. National Adult Protective Services Association. https://www.napsa-now.org/wp-content/uploads/2020/08/R2P-Brief-A-Novel-Intervention-to-Identify-and-Report-Suspected-Abuse-in-Older-Primary-Care-Patients.pdf
Social Isolation and the Holidays During the COVID-19 Pandemic
Isolation has been a common theme of the COVID-19 pandemic. From the early days, we were encouraged to "socially isolate," and while doing so is challenging for many of us, it is still considered to be a positive action for the good of our communities. But social isolation has a negative side, one that has existed long before the pandemic.
Read More
By Tamar Cooper and Kerstin Yoder | 12/15/2020
4 Tips to Help Older Adults Stay Active in the Winter
This winter will be an atypical one in many ways due to the COVID-19 surge limiting our ability to get outside, along with the usual concerns of cold and flu season and severe weather. However, even during more traditional winters than this one, the temptation to stay in bed and hibernate like bears until the warm weather comes back is hard to overcome. After all, when "the weather outside is frightful," what's better than relaxing in front of a delightful fire?
Read More
By Julie Hayes | 12/15/2020
Caring for Your Older Loved One's Pet
When the loved one we are providing care for has a pet, chances are we will provide care for their pet as well. While this can add to the time we spend and amount of tasks we manage as caregivers, it can also provide us opportunities for self-care and a way to begin difficult discussions with a loved one. 
Read More
By Jess Bibbo, PhD | 12/15/2020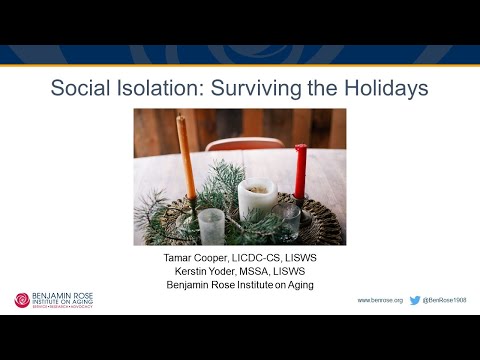 Social Isolation and the Pandemic
The COVID-19 pandemic may have changed some normal family traditions this year. Not being with family and friends over the holidays may exacerbate feelings of social isolation and depression among older adults. Tamar Cooper, LISW-S, LICDC-CS, Associate Director of Behavioral Health Services, Benjamin Rose Institute on Aging, and Kerstin Yoder, MSSA LISWS, Social Worker/Mental Health Day Treatment Group Facilitator, Benjamin Rose Institute on Aging, share some tips for helping a loved one cope when you can't be together, and learn how to help yourself let go of feelings of guilt you may be experiencing at this time.
Watch
By Tamar Cooper and Kerstin Yoder | 12/03/2020